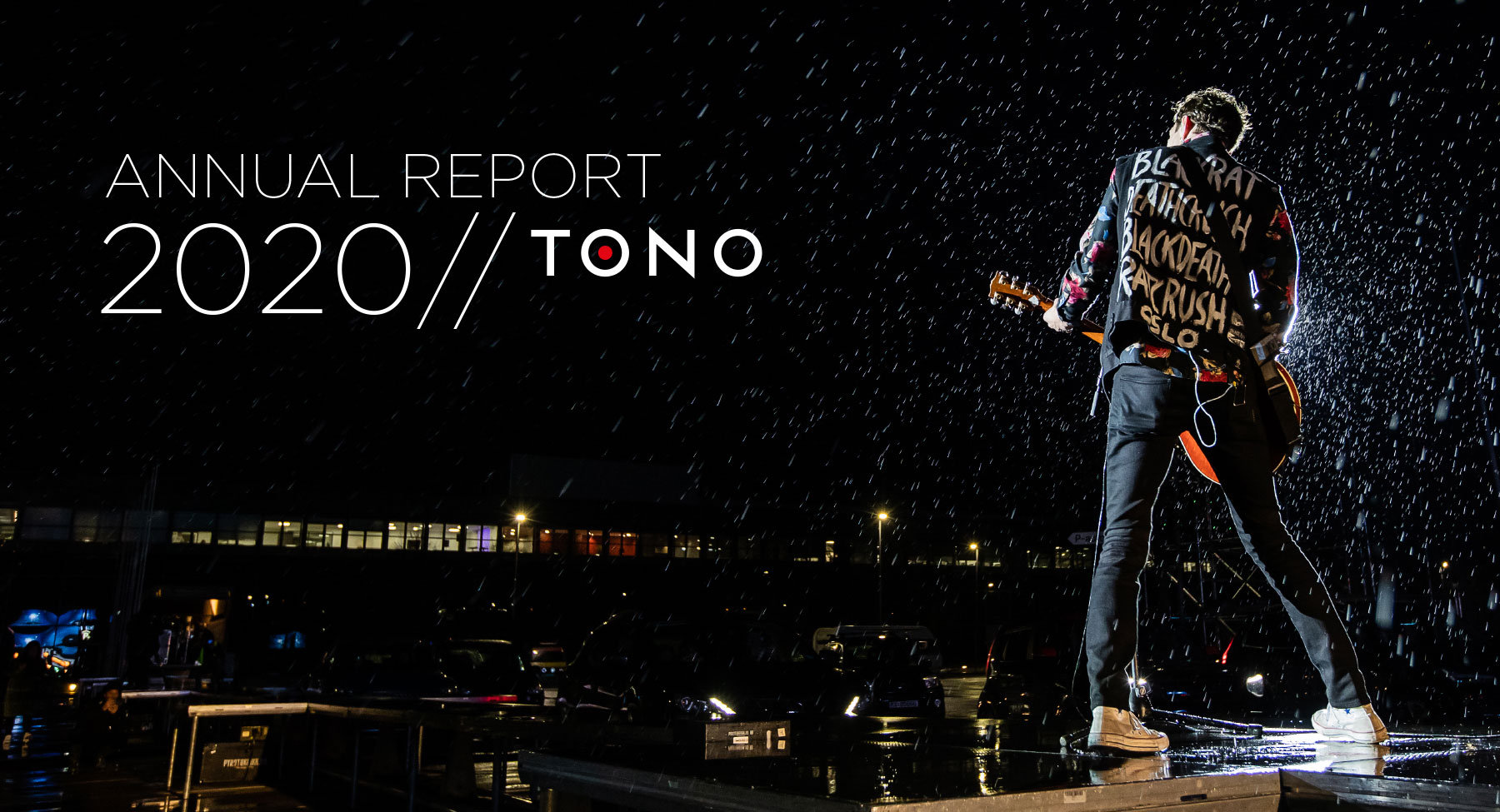 A difficult year for TONO's members.
In June 2020, when TONO published its annual report for 2019, it was with pride in having a fantastic result. Nevertheless, that feeling was naturally overshadowed by the crisis that the arts in general, and TONO's members in particular, found themselves. Unfortunately, we are still struggling with that crisis, and 2021 will be no better than 2020. In fact, as we write this in May 2021, things look set to get worse.
Since 12 March 2020, TONO's employees have managed operations from their own homes. Despite this, all distributions and bursary awards to members have taken place on time and as planned for a normal year.
The area hit hardest by the disastrous year of 2020 was the concert segment, the most important source of income for a large proportion of TONO's members. The reopening of the cultural sector still seems a long way off, and activity in our sector is lower than ever.
In the spring of 2020, artists responded with a series of creative initiatives, including live-streamed concerts. Here, TONO quickly established licensing solutions that inspired sister societies to do the same. Initially, the live-streamed concert phenomenon was characterised by makeshift and literally "DIY" solutions. They generated far less income than would normally be the case. As the year progressed, live-streamed concerts have become more professional in form, although we cannot say that this has in any way lifted concert earnings from rock bottom.
Throughout 2020, TONO has worked to establish arrangements that could compensate for some of the losses our members have suffered. It has not been easy to make the Ministry of Cultural understand the complexity of the creator economy, which includes both creators and music publishers. The compensation schemes and financial stimulus packages established by the authorities fell largely wide of the mark as far as our members were concerned. The sense of falling through the cracks was keenly felt. 
In the autumn of 2020, however, after discussions with Norway's Culture Minister Abid Q. Raja himself and key government authorities, we succeeded in establishing a basic understanding of how the creator economy works. TONO's estimates of lost income formed the basis for what was, in the new year, made tangible by the Norwegian Ministry of Culture in the form of NOK 30.5 million in state aid. These are funds which TONO will distribute in the manner specified in the Ministry of Culture's appropriation letter. The funds will be distributed to Norwegian members working in Norway, on the basis of established distribution principles. Up to NOK 600,000 may be deducted to cover costs. The normal cultural fund levies will not have to be deducted from the grant.
It is clear that TONO's members have made good use of the lockdown period. The number of works registered in 2020 increased by 17 per cent from the previous year, and the number of new members was higher than ever before.
Overall, TONO's annual profit was far better than we feared halfway through 2020. Budget targets were reached.
It should be mentioned that Norwegian rights holders' works are also popular outside the country. Income from abroad rose by 46 per cent compared with 2019, to NOK 95.7 million.
At the same time, TONO's administration managed to reduce costs by NOK 4.5 million. At the close of the year, the cost ratio stood at 13.8 per cent, which was lower than budgeted.
Regrettably, we believe that 2021 will be an even more difficult year. We doubt that the high level of international income we saw in 2020 will be repeated in 2021, since all our sister companies are reporting a significant slump in revenue. Nor can we expect, as things stand today, that the concert market will fully reopen this year.
TONO has argued that the Ministry of Culture must give priority to compensation schemes in 2021 rather than financial stimulus packages. Stimulus packages have proved to be imprecise and of limited value. In addition, they have been complex and have failed to meet the needs of the creator economy. We believe that the Ministry has seen the limitations inherent in stimulus packages and will prioritise compensation schemes going forward.
TONO will continue its endeavours to ensure that our members receive compensation for the losses they are suffering as a result of Covid restrictions. We believe the government's understanding of the creator economy is now well established. We hope this will make work on compensation schemes and stimulus packages less complicated this year.
Yours sincerely,
Cato Strøm
CEO