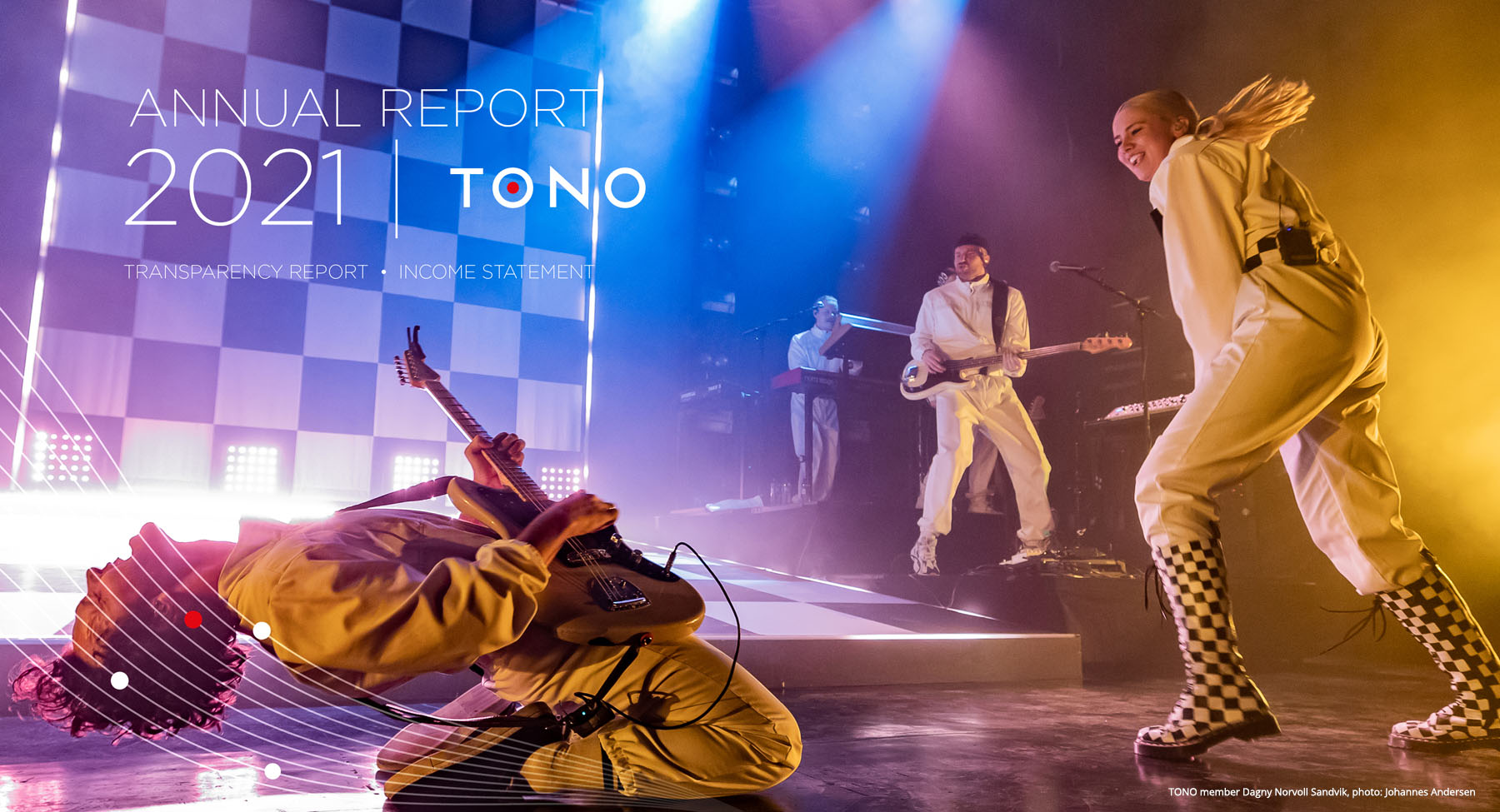 2021 – Another difficult year for most of TONO's members.
In May 2021, when we wrote the annual report for 2020, we predicted that 2021 would probably be as difficult a year for TONO's members as 2020.
Sadly, that prediction proved all too accurate. Although TONO as a company had a very good year from a financial perspective, with record-high revenues of NOK 844 million, compared with NOK 712 million in 2020, and an administrative expenses ratio of 10.66 per cent, this was overshadowed by the sad fact that most of our members were prevented from exercising their profession or having their works played as a result of Covid-related lockdowns.
Through most of 2021, TONO's staff worked from home. We have established good procedures, which ensured that all settlements and bursary payments to members were disbursed at the right time and as planned for a normal year.
The crisis years of 2020 and 2021 have primarily impacted the concert sector, the most important source of income for a large proportion of TONO's members. The first three months of 2022 have not shown signs of a return to "normal" either. Yet we can feel a growing optimism, which augurs well for the next three quarters.
We are often asked whether live-streamed concerts have taken over some of the "concert market". The answer is probably not. Live-streamed concerts were a welcome opportunity for rights holders and performers to reach out to audiences, even though most did not generate a great deal of income. In hindsight, we see that this can be a supplement to the traditional live market.
In our discussions with the cultural authorities over the past two years, we note that they have gained a deeper understanding of what we call the rights-holder economy, which includes both music creators and music publishers. After a somewhat fumbling start on the part of the cultural authorities in 2020, we should pay tribute to both the previous and the sitting government for showing the willingness and ability to immerse themselves in the rights-holder economy's complex structure, as a result of which the Norwegian Ministry of Culture accepted TONO's application for state aid. This has provided compensation in those areas in which our members have suffered the largest losses due to the stringent public health restrictions imposed by the authorities. For 2021, the Ministry of Culture has decided to provide NOK 34 million in compensation to TONO's Norwegian members. These are funds that will be paid to TONO's Norwegian members in accordance with the criteria laid down by the Ministry of Culture in its Letter of Appropriation. A scant 1.76 per cent will be deducted to cover allocation costs, and no cultural funds may be deducted.
Compared with other collective management organisations (CMO) worldwide, we have got off lightly. Many CMOs have seen their revenues drop by 30 per cent or more and have had to substantially reduce their workforce.
TONO's members continue to do well outside of Norway's borders. In 2020, revenues from abroad reached an all-time high. To a great extent, this was probably because many fellow CMOs made an effort to track down money and get it to rights holders the world over. Income from abroad for 2021 is back at pre-pandemic levels.
In addition to the traditional revenues from its sister companies, TONO now has considerable income from other countries and territories because we have started pan-European direct licensing of Norwegian members' works through Polaris HUB. We are now also direct licensing territories outside Europe, and more territories are lined up.
We started 2022 with the sale of TONO's premises in Tøyenbekken 21 and our relocation to modern offices in Møllergata 4, right beside the Glassmagasinet retail store and Oslo Cathedral. The property is owned by Møller Eiendom AS.
Yours sincerely,
Cato Strøm
CEO