Musikk kan være et sentralt element i en bedrifts identitet, og en viktig del av kundens helhetsopplevelse. Men hvordan velger man riktig låt til riktig tid, og hva har det å si for omsetningen? (ENG)
Kristian Dugstad
Musikken som spilles i en butikk, salong eller restaurant er med på å forme kundens helhetsopplevelse. Men i hvilken grad kan valg av spilleliste bidra til å styrke eller svekke bedriftens identitet – og omsetningen?
Vi tok en prat med James Allen, Creative Director i strømmetjenesten for bedrifter og TONO-kunde, Soundtrack Your Brand.
Intervjuet er på engelsk.
– Tell us about Soundtrack Your Brand and your vision?
Ola Sars, co-founder of Beats by Dr. Dre, and Andreas Liffgarden, a Spotify executive, founded Spotify Business in 2013 with the backing of Spotify. The company became completely independent in 2018 and rebranded as Soundtrack Your Brand. Ola remains at the helm. 
We're still based out of Stockholm, but today have customers in 75 countries across the world.
Our mission is to be the world's best audio platform for brick-and-mortar businesses. This means redefining the commercial music space to provide better outcomes for customers, artists, labels, and other music rights-holders like Tono. For everybody to win.
– Not playing music means leaving out a fundamental component of the total experience and missing a huge opportunity to improve it.

James Allen, Creative Director, Soundtrack Your Brand
Music helps define a space. Businesses understandably care about how staff interact with customers and each other; they care about lighting and interior and exterior design. But what about what people hear? Why would a business want to ignore that?
Not playing music means leaving out a fundamental component of the total experience and missing a huge opportunity to improve it. But just playing any music is a bad idea, precisely because what people hear shapes their overall perceptions of a place to such a strong degree.
Essentially, businesses want people to want to be there – to welcome them, for them to enjoy their time there, and to come back. Businesses with physical locations are battling online giants right now. It's never been more important for them to show the benefits and joys of the brick-and-mortar business.   
Saken fortsetter under bildet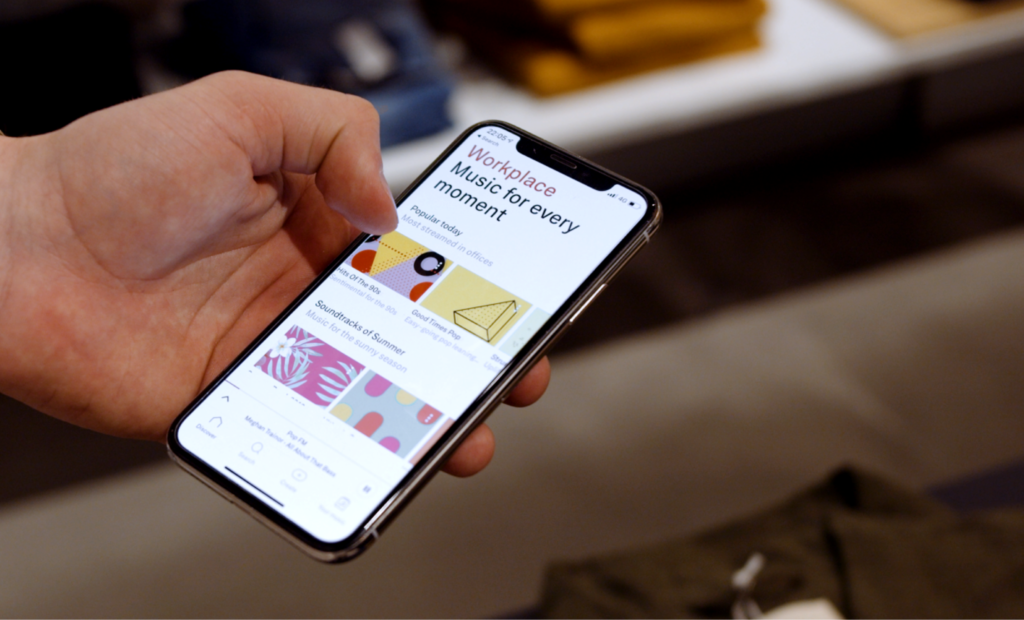 – Why should businesses be conscious about the music they play? Why is it important for the music to fit with a brand? Why not just let the employees take control?
Music in a business acts as a signal to everyone who hears it. It lets people know they're in the right place – or not. It makes them feel good about themselves and the brand – or not. Businesses spend thousands, or millions, to define their brand. So, you can either enrich the brand with the right music or erode it with the wrong music.
This is why employees playing whatever they want from, say, their phones is a bad idea. What he or she happens to be listening to at the moment is unlikely to reflect the brand properly and resonate with customers. You want to keep your employees in mind when choosing the music – they matter – but you need to keep control over what plays.
Also, employees tend to prefer higher-energy music, which translates to music with high bpm (beats per minute). This is often the wrong idea. Energetic music makes time seem to pass more quickly, which causes people to feel like they have to hurry and that they're spending too much time in your business. And this means that high-energy music can push them right out the door. If you have a transactional business, like a store, restaurant, or coffee shop, you usually want to avoid this. You want people to stick around and take the time to appreciate everything you have to offer…and buy something. Lots of things.
– How can you arrive at a musical identity that fits with your brand identity?
There's no one-size-fits-all approach, but there are some guidelines. 
Let's take energy out of the equation. We're now looking at genre, mood, and when the music was produced. But before we dive into these categories, you have to think about the service you provide and your target audience. Because you're playing music for them.
For most businesses, these are your customers. And fortunately, what you sell and whom you're selling it to are closely related. Many businesses know who their target customer is and have created one or more customer personas to reflect this. If so, start here. But if not, this is a great opportunity to make sure what you're selling lines up with how you're offering it and whom you're offering it to.
Also, consider the visual presentation of the business. The audio design, or the music, should complement the visual design. Done right, they reinforce each other and communicate the same idea to different senses.
Think of an upscale apparel brand that sells elegant, modern clothing and accessories primarily to women in their 30s and 40s. Unless you have good reasons not to, you should consider sophisticated, new, elegant music to fit the space and the offering. Some genres just won't work: hard rock or gangster rap probably won't cut it here. 
A bank isn't a gym. Knowing what you're offering and whom you're offering it to. 

James Allen, Creative Director, Soundtrack Your Brand
Soundtrack helps customers realize their brand sound in a few different ways. First, we have more than 560 playlists curated by our music team. Making playlists is what they do, and they've made them for different business types, genres, and more. These are a good place to start. And depending on your subscription type, you can add or remove songs from these playlists to further refine the sound.
The system recommends music based on your business type, and learns what you like to keep suggesting new music that gets you closer to your ideal. You can also see what music is popular in other businesses like yours.
But – and this is really cool – you can click on mood buttons in the product that describe your brand, like "sophisticated," "elegant," and "modern" mentioned above, and then click on buttons to further filter the music by when it was produced, like "2010s" or "latest" for the most recent years. And then you get a station filled with music that fits your specifications.
If you already have the perfect playlist in mind – you'd be ahead of most here – you can create it in Soundtrack with exactly those songs. And if that playlist is in Spotify? Just import it. Either way, it's exactly the music you want.
Now this is really important: think about whether songs with explicit lyrics fit your brand. If you're a bar, they're probably OK. If you're a family-friendly restaurant, they're not. This is why Soundtrack lets our customers remove all songs with explicit lyrics by just clicking a button.
A quick note about staff: they're important too, but the best thing you can do to keep them happy is to not play the same songs over and over again. 
Saken fortsetter under bildet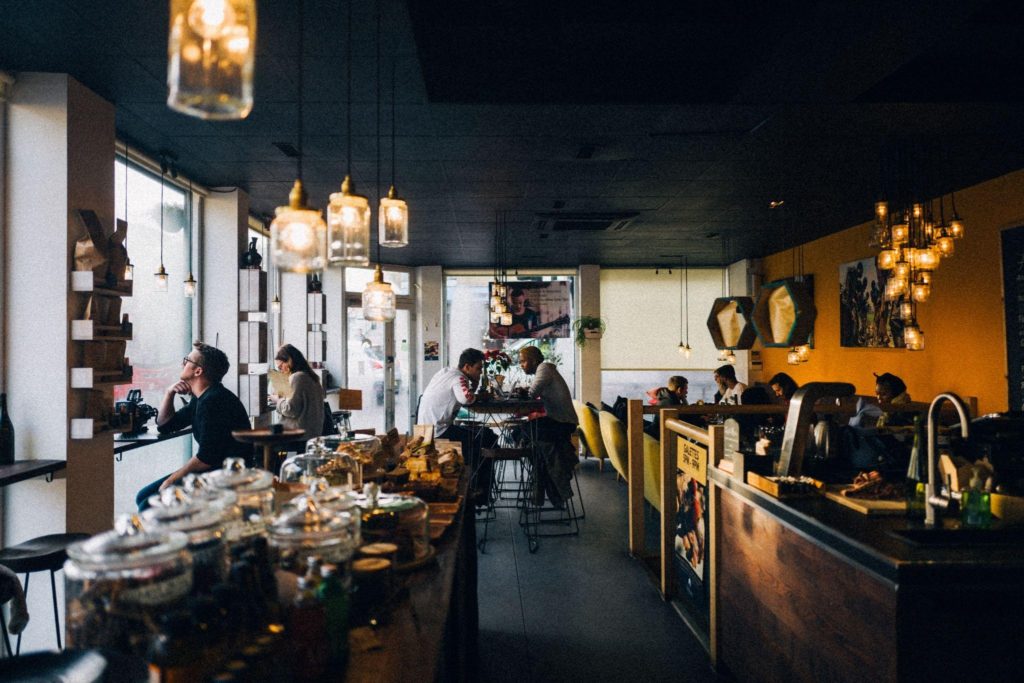 – Can well-executed music lead to increased revenue?
It does. You can read studies on our website showing how major companies boosted revenue by, in some cases, double-digits. The return on investment is crazy. And it's not hard to do right.
– How do you know whether you've succeeded or still have room to improve your musical identity?
If you've figured out your brand identity and your customer personas, your core musical identity should reflect that and not change. But, you can experiment with genres and different time periods. And you can continue to tweak your sound over time. Believe it or not, customers are likely to comment on the music when they like it.
– Should different types of businesses think differently about music?
Absolutely. A bank isn't a gym. This goes back to knowing what you're offering and whom you're offering it to.
But all businesses should think of music similarly in terms of its importance as a tool. And here's a tip for everyone: match the energy level to the situation, day of the week, time of day, etc. For a transactional business, when it's busy and you need to cycle customers more quickly, increase the energy. When it's slow, drop the energy to keep them around longer.
This means that it's a great idea to schedule playlists and stations with different energy levels ahead of time – for when you know you'll need them – so you don't have to worry about finding the right music in the moment. Having the right energy at the right time is very, very important.
– How do other factors affect the effectiveness of the music – speaker placement, volume, etc.?
The general idea is for the music to be noticeable but not overwhelming.
You want to distribute your speakers evenly across a space, and it's better to have more speakers playing music at a lower volume than a few really good ones playing at a higher volume. Place them in the ceiling so that they angle downwards towards the floor, just like you do with lighting.
The volume should stay consistent throughout the area you're playing music in, with one exception: it should be lower where staff frequently talk to customers, like at the checkout counter, so that they can easily communicate.
Beyond technical considerations, customers should consider playing a mix of popular and lesser-known songs. It might be tempting to just play hits, but don't do it! We conducted a massive study with a major international restaurant customer to study this. The customer played only random hits, then only hits that fit the brand sound, and finally, a mix of popular and lesser-known songs that fit the brand. It turns out that only playing random hits actually reduces sales, playing only brand-fit hits modestly improves them, and playing a mix of brand-fit hits and lesser-known songs increases sales the most of all.  
Saken fortsetter under bildet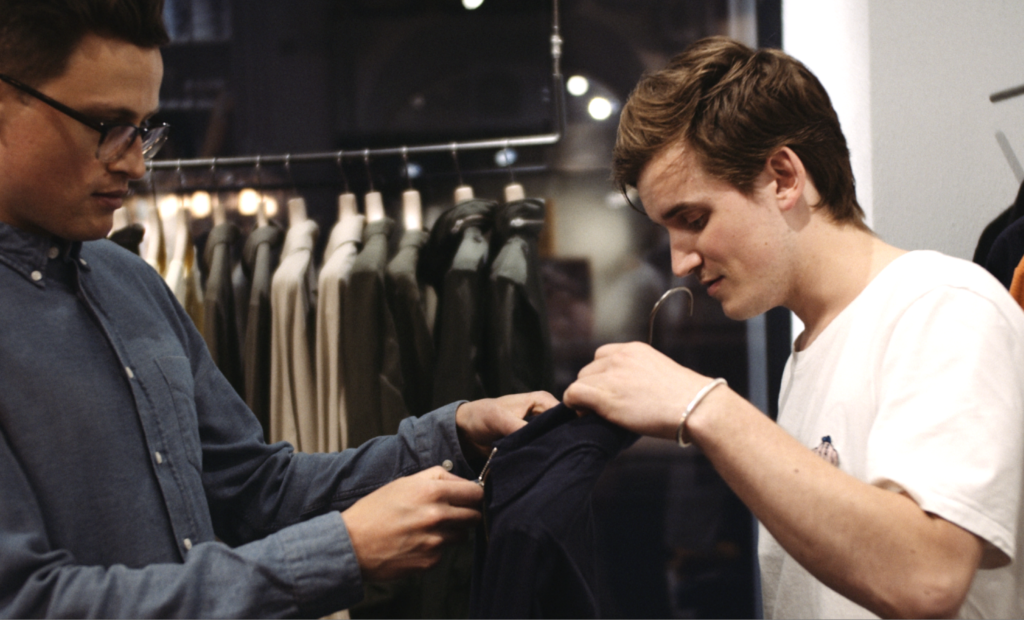 – What are the benefits of using licensed music over royalty-free streaming services?*
You get better music. We've covered why music is important for businesses and why it's critical to have the right music for your brand and your customers, not just any music. And while some royalty-free music is doubtless decent, you want quality and variety, and the best music is written, performed, and produced by professionals. These professionals reasonably expect to get paid for their hard work and creativity – no surprise there.
Comparatively few royalty-free songs exist at any quality. So, how are you going to find the perfect music for your business if you're forced to settle for a smaller body of work with lower overall quality? You're not.
Also, you're not going to be getting any of the hits that you'll want to put into your mix – and that's important.
Finally, many customers want to play specific songs by particular artists. Why not, if they fit the brand? You can do this with Soundtrack. You're not going to find your favorite artists in a royalty-free collection.
All this is why it's a big deal that Soundtrack offers, by far, the most songs licensed for businesses – 58 million. Because this gives our customers the quality and variety to make sure they have the right music for their customers and brand.  
*By royalty-free streaming services we mean services that have pre-licensed or bought out the rights to the music in their library.
– Why pay for a streaming service for businesses, and not just use your personal subscription? 
It's against copyright law and, depending on how these laws are enforced around the world, can result in big fines.
Playing music in your business is fundamentally different from listening to it in your house; the former is about making profit and the latter is about your personal recreation. As background music is generally used to help achieve business goals, it requires different licenses. Soundtrack provides these licenses and personal streaming services don't.
And what about supporting the people that actually make the music you're playing? Artists make up to ten times more per stream with a background music service like Soundtrack Your Brand than when someone streams the same song at home. Soundtrack, uniquely among background music providers, tracks every song played. So, every artist gets paid fairly and can keep doing what you and they both love.
On top of the legal and ethical considerations, a good background music service is designed for business use. You want to be able to schedule ahead of time what music plays when. You want to be able to monitor what's playing in all of your locations or zones within those locations. You want to limit staff control over the music while empowering them to respond to the moment.
People often think that the only way to play the music they want is with personal streaming services. But with Soundtrack, they don't have to choose between playing exactly the music they want on demand, and being legal, ethical, and having the right tools to make it work for their business. They can have it all.